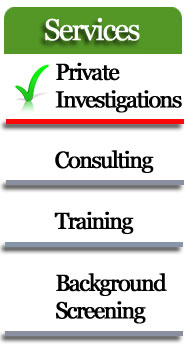 Private Investigations

Atlantic Security Group Incorporated is licenced to conduct private investigations and maintains personnel highly trained and experienced in conducting all levels of criminal and civil investigation. ASG investigators are all ex RCMP or British Police detectives with criminal, civil and specialist investigation training. Services include:
General Investigation: Evidence gathering, suspect and witness interviewing, IT forensic services, preparation of evidential packages and presentation of evidence at court or in civil proceedings.


Surveillance: ASG maintains a core of personnel trained in the highest level of, mobile, foot and static surveillance techniques. Investigators have access to advanced remote surveillance technology including military grade equipment and that used in national border protection.


Financial Investigation: ASG can provide investigators highly trained and experienced in dealing with all types of Theft, Fraud, Commercial Crime and Money Laundering.
Corporate Due Diligence Investigations
Investigative due diligence is an essential service offered to corporations or individuals engaging in joint business ventures or investment opportunities, especially abroad. Assessing potential risk is an essential element of any investment planning especially in areas of political or civil instability and high levels of official corruption. Due diligence investigations can uncover undisclosed liabilities and relationships, verify the location and operation of business sites, reveal litigation history and help to develop an accurate profile of prospective business partners, investment companies, trading history or general stability of a nation, region or geographic area.
International Investigations
Atlantic Security Group maintains a significant capability in the provision of investigative services abroad; through a series of partnerships. Capitalising on these partnerships ASG has positioned itself to provide investigation services on every major continent world-wide. International investigations are conducted in accordance with Canadian domestic legislation and the Charter of Rights and Freedoms.
Digital Forensic Investigations
Our digital forensic investigations department uses only court-proven methodologies and supports federal and provincial government departments, legal and corporate communities. From the inception of the case through to its conclusion, we handle all aspects from data seizure, chain of custody, full digital evidence analysis to reporting and testifying. We also support information technology department managers with digital investigations into sensitive areas.